Staff Shines & Shout Outs
The Staff Association aims to unlock the authentic narratives of our dynamic Staff. To that end, we invite you to shine the light on a colleague or team that enhances the university work experience.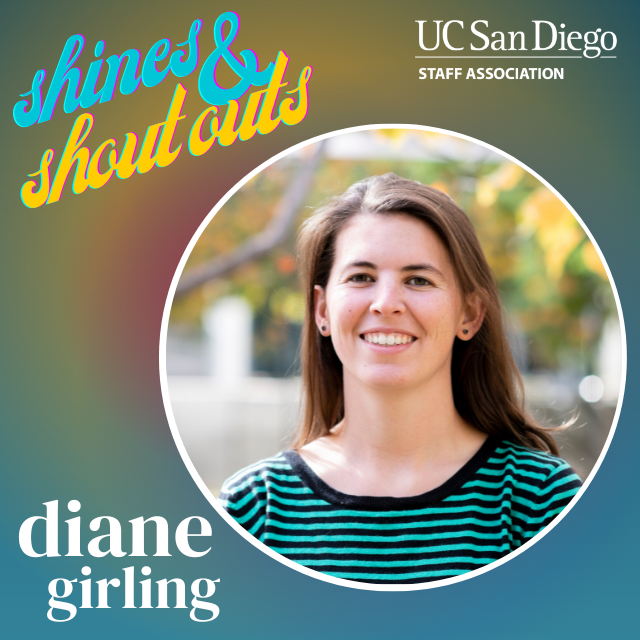 SHOUT OUT to Diane Girling!
Graduate Financial Support & Payroll Coordinator, CSE
"I started with CSE back in June 2022. Diane as the lead team member has trained me in all the aspects of this position of the Graduate Financial Support & Payroll Coordinator. I appreciate all the time and effort she took she in training me." - Nicole Dennis, CSE (May 2023)
SHOUT OUT to Michelle Perez!
Energy/Sustainability Manager, Utilities & Sustainability
"Shout out to Michelle Perez and her team for their leadership in coordinating amongst numerous campus working groups to share our story and strengths in Sustainability. We are leaders in the UC system and continue to measure our progress towards all of our campus goals. Michelle and Jen have been instrumental in gathering, sharing and supporting all of the Sustainable Action Groups that have been working together to support our campus efforts." - Walt Kanzler, RMP Senior Director (March 2022)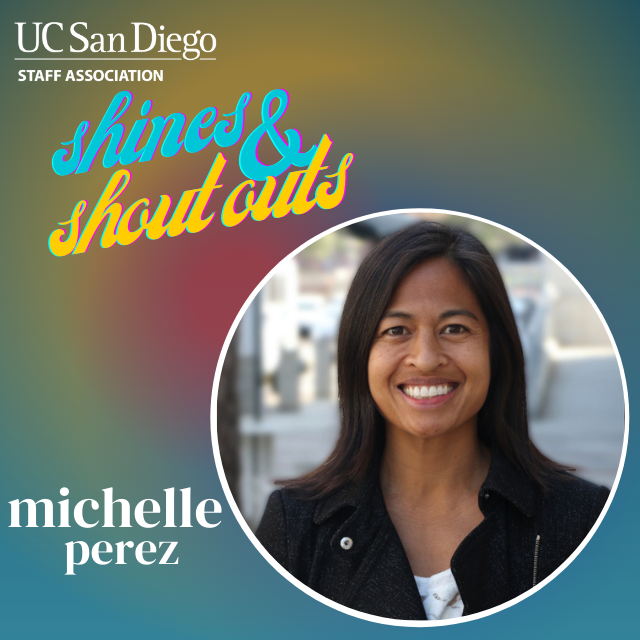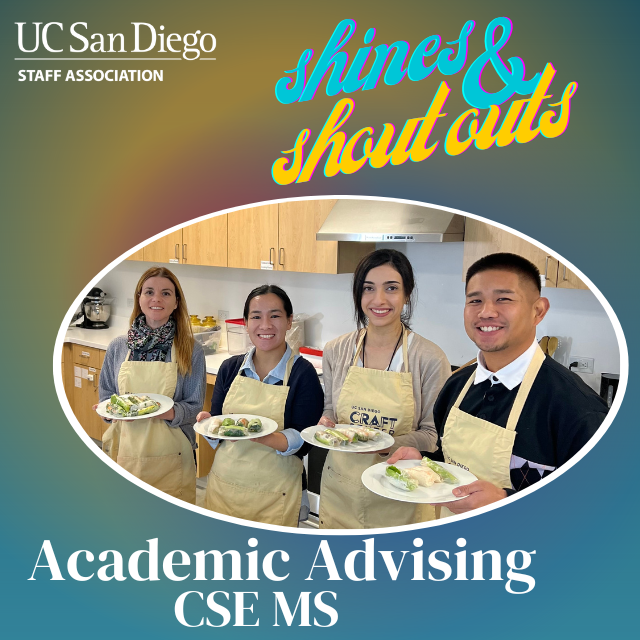 SHOUT OUT to the CSE MS Program Academic Advising Staff!
"The MS academic advising staff are a compassionate group of staff that support our currently enrolled MS and BS/MS students, along with prospective students. Their contributions to our student population is invaluable - including ensuring the academic success, wellness support, and helping students to stay connected to campus resources. We appreciate all that they do for students and program!" - Nadyne Nawar, MS Program Manager, Computer Science Engineering Department (April 2023)
SHOUT OUT to Brenna Joyce!
Well-being & Engagement Coordinator, Office of Experience Transformation, UC San Diego Health
The Wellness team hosted two "puppy parties": one at Hillcrest and another in La Jolla. These  centered around two "feels": stress relief for employees and promoting puppy adoption events. "It was such a great idea! We had staff coming in from the comforts of home just to get some cuddles."
"Puppy party! What else is there to say!" - Beckett Kirk, Dept of Emergency Medicine Medical Student Coordinator (April 2023)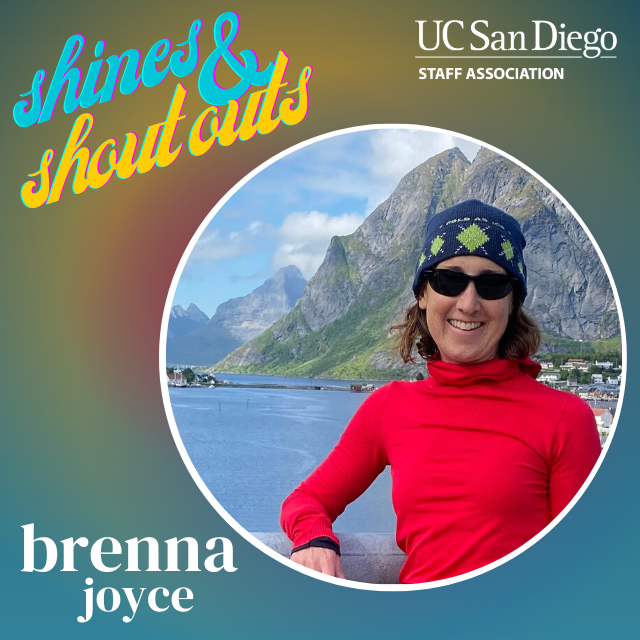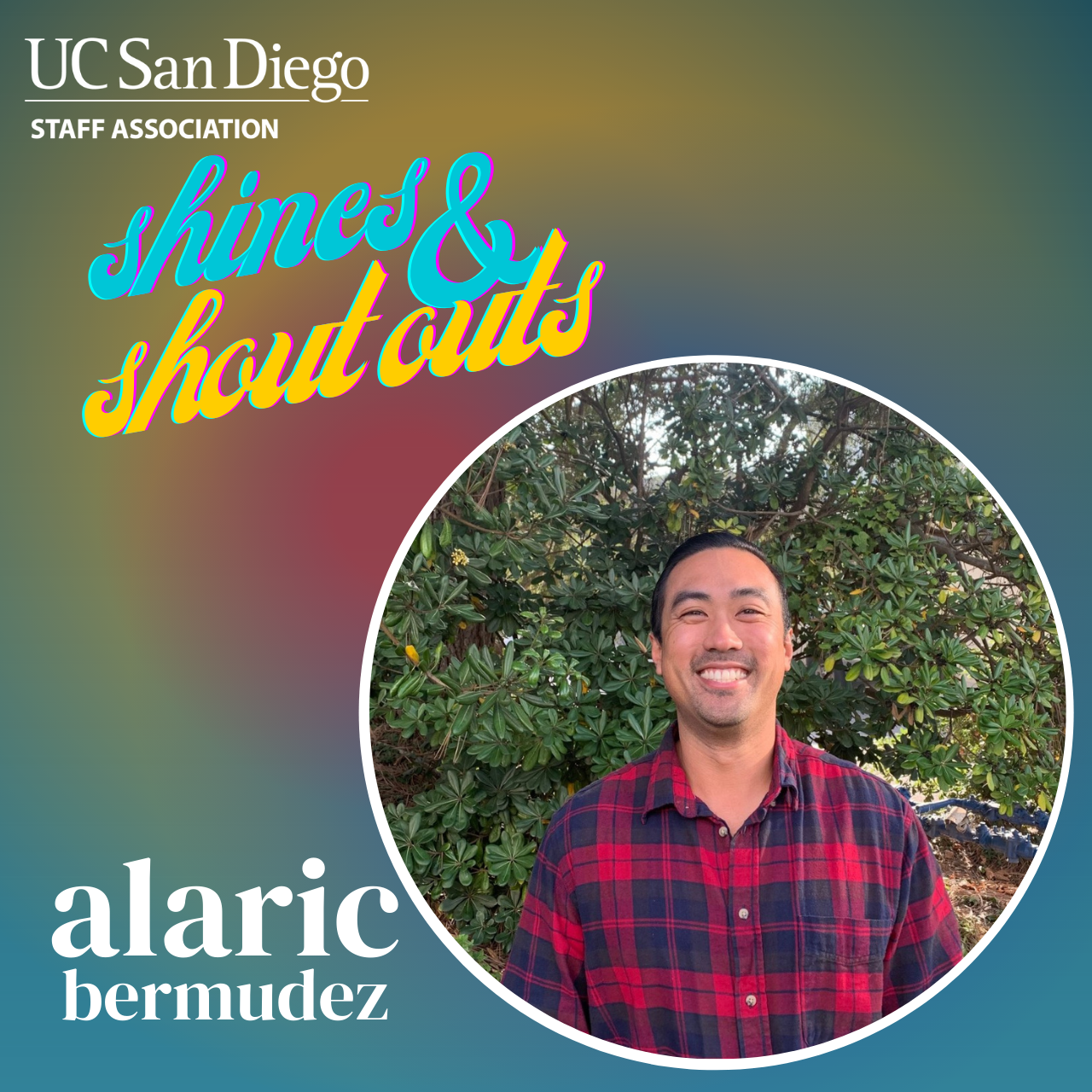 SHOUT OUT to Alaric Bermudez!
"I first met Alaric at Pines dining hall where he was my manager when I started working for UCSD as a TES employee. Now I'm a career worker … He had a wonderful way with people and goes far and beyond to help students and staff. He has helped me so much along the way! So thank you Alaric, you do SHINE!" - anonymous colleague (October 2021)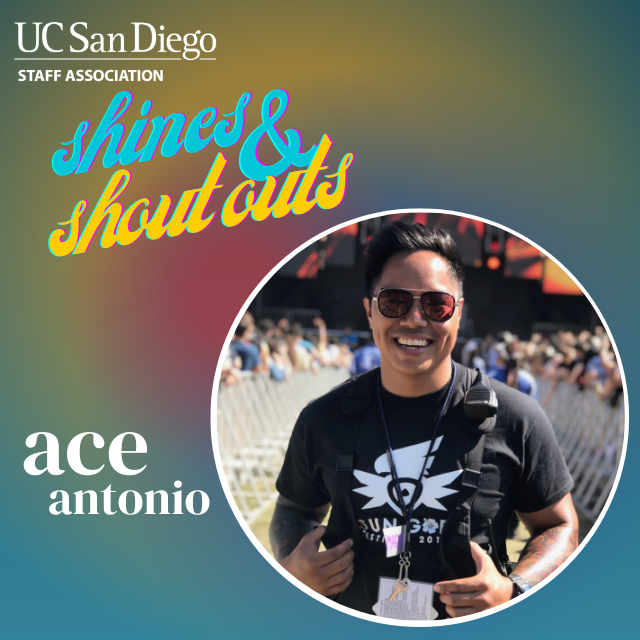 SHOUT OUT to Ace Antonio!
Campus Events Manager, Student Life
"During the creation of the Campus Performance and Event Office (CPEO), the formerly University Events Office, now Campus Events, experienced major changes as it was preparing its move within CPEO. The two most senior leaders had been promoted within their careers and left the department, staff hiring was delayed, event regulations were constantly changing, and new leadership was undergoing its national search. Ace Antonio, the Campus Events Manager, who has been with UCSD for the greater part of a decade within the same department, was faced with the challenges of maintaining the department during this shift. Ace stepped up as Interim Director, a role he is highly qualified for, facing new challenges with the department's administration duties. Ace without hesitation proudly embraced this new role by balancing all the duties of the absent positions. Ace deserves a shout out for not only carrying the Campus Events department through this period and maintaining a positive demeanor throughout, but he also continued to be an exemplary employee by being a role model through his actions, a leader through his examples, and mentor through his guidance. Additionally, when the new leadership was appointed, Ace trained the new Assistant Director and continues to be a great resource. Ace remains a model employee with his positive attitude, embracing his call to lead, adapting to high stress situations, and being a role model & mentor to the campus community." - Nic Alonzo, Assistant Director, Campus Events (September 2022)